For other uses, see Parliament.
---
Spoiler warning:
Plot and/or ending details follow: The following content contains spoilers!
---
The Parliament class was a 24th century Federation starship type, a class of vessels deployed for large-scale engineering projects in Starfleet service in the 2380s decade. (LD episode: "Cupid's Errant Arrow")
History and specifics
Technical specifications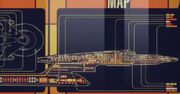 A ship of this class consisted of a large saucer section with underslung, marginalized secondary hull sections and large impulse engines at the aft end of the saucer. On either side, a nacelle pylon extend from the side of the sauce and swept down, holding the ship's warp nacelles. The nacelle pylons were large enough to feature windows and habitable sections. The deflector dish sat on the saucer's underside, facing forward. The ship's shuttlebay was fitted with Type-6A shuttlecraft and was adorned with the vessel's name and the Starfleet arrowhead insignia in metallic gleaming command division red. Critical systems and locations, like the bridge, were displayed on the master systems display.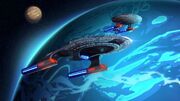 Ships of the class were larger than a California-class starship. (LD episode: "Cupid's Errant Arrow")
The Parliament-class engineering vessel was 641 meters long. (Shipyards reference: Starfleet Ships 2294 - The Future)
A parliament was an institution in democratic societies, like the Parliament Andoria. (DS9 - Worlds of Deep Space Nine novel: Andor: Paradigm)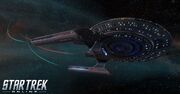 In the 25th century, the Parliament class was registered as a combined miracle worker ship, surveyor and cruiser, rated at tier 6. In the 2410s decade, the Parliament-class miracle worker surveyor cruiser was a state-of-the-art starship and included technology developed by Federation engineers and scientists. The ship's configuration made it efficient for demolition assignments. It was equipped with the controlled gravimetric demolition console, a module that enabled the Parliament to damage or destroy physically large targets. First, a deflector platform would be deployed to maintain a demolition field. Second, the cruiser fired a stream of cohesive gravitons. (STO website: The First Ship from Lower Decks!)
Service history
The USS Vancouver (NCC-70492) had entered service by the 2380s decade. In the year 2381, the Vancouver was supported the California-class starship USS Cerritos during a large-scale engineering assignment in the Mixtus star system. A moon threatened a catastrophe on Mixtus III. To save the populated planet, the pair of ships destroyed the errant moon. (LD episode: "Cupid's Errant Arrow")
In 2381, Ensign Beckett Mariner's holodeck program portrayed a Cardassian asteroid base that held captured vessels, including at least one Parliament-class starship. (LD episode: "Strange Energies")
In the same year, a pair of Parliaments were docked at Starbase 25 when that station held Starfleet's prestigious Command Conference and its afterparty. (LD episode: "An Embarrassment Of Dooplers")
The Vancouver remained a state-of-the-art starship into the year 2411. (STO website: The First Ship from Lower Decks!)
Known vessels
Appendices
Connections
Appearances and references
Appearances
References
External links