For other uses, see Perseus.
The Perseus class was a Federation starship class, a tier 3 temporal escort in Starfleet service in the mid-23rd and early 25th centuries. The USS Perseus was the prototype of the temporal escort Perseus-class and designed for combat.[1] (STO video game: Agents of Yesterday)
History and specifications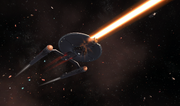 The Perseus class had entered service in or before the year 2270, and was a contemporary of the famed Constitution-class heavy cruiser. Standard weaponry included one dual phaser cannon, two photon torpedo launchers, and a pair of phaser beam arrays. The ship featured three forward-facing weapon slots, and two in the aft. A major innovation was the M-6 computer, which increased automation and reduced reaction times during combat. The computer corrected the drawbacks of its predecessor, the M-5 computer. Thus, ship systems were upgraded from duotronic to multitronic.[2] (STO video game: Agents of Yesterday)
Rated a tier 3 vessel in the 2410s decade, the Perseus class outmatched a Constitution-class vessel in original configuration (tier 1), and the Enterprise-class refit of tier 2 rating.[3] (STO video game: Agents of Yesterday)
When the Federation and its allies became embroiled in the Temporal Cold War with the Na'kuhl and other factions, Starfleet revived older ship classes to field them as timeships. The Perseus-class was thus able to protect Federation interests from the 23rd to the 28th century. The time traveling nature allowed for all components, the primary hull, secondary hull, nacelle pylons, and warp nacelles, to be swapped with those of a derivative ship class of the 26th century, the Theseus-class.[4] (STO video game: Agents of Yesterday)
Background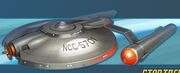 In the ARC website blog Art of TOS Ships, the concept art depicts an unnamed Perseus-class escort labelled NCC-5701.[5]
Appendices
Connections
References