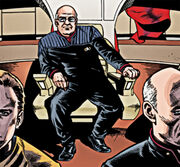 Peter David is an author, the self-proclaimed "writer of stuff". After beginning a career working for Marvel Comics, David wrote a number of bestselling Star Trek novels.
Star Trek works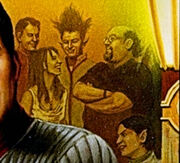 Peter David's novels include Imzadi, Q-Squared, and the Star Trek: New Frontier series, which he created along with John J. Ordover.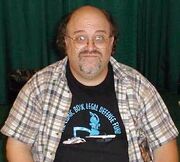 In addition to his Star Trek fiction, he also worked with James Doohan in the writing of his autobiography, Beam Me Up, Scotty.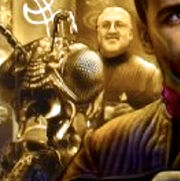 David lives in Long Island, New York.
Creations
Alien creations
Peter David has created and written the first appearance of numerous alien races and cultures.
Bibliography
Prose
title
series
format
collaborator
published
image
Strike Zone
The Next Generation
novel
 
March 1989
A Rock and a Hard Place
The Next Generation
novel
 
January 1990
Doomsday World
The Next Generation
novel
  Carmen Carter, Michael Jan Friedman, Robert Greenberger
July 1990
Vendetta
The Next Generation
novel
 
May 1991
Q-in-Law
The Next Generation
novel
 
October 1991
The Rift
The Original Series
novel
 
November 1991
The Disinherited
The Original Series
novel
  Michael Jan Friedman, Robert Greenberger
May 1992
Imzadi
The Next Generation
novel
 
August 1992
The Siege
Deep Space Nine
novel
 
May 1993
Starfleet Academy

Worf's First Adventure
The Next Generation
novel
 
August 1993
Starfleet Academy

Line of Fire
The Next Generation
novel
 
October 1993
Starfleet Academy

Survival
The Next Generation
novel
 
December 1993
Q-Squared
The Next Generation
novel
 
July 1994
The Captain's Daughter
The Original Series
novel
 
December 1995
Wrath of the Prophets
Deep Space Nine
novel
  Michael Jan Friedman, Robert Greenberger
April 1997
House of Cards
New Frontier
novel
 
July 1997
Into the Void
New Frontier
novel
 
July 1997
The Two-Front War
New Frontier
novel
 
August 1997
End Game
New Frontier
novel
 
August 1997
Martyr
New Frontier
novel
 
March 1998
Fire on High
New Frontier
novel
 
April 1998
The Captain's Table, Book 5

Once Burned
New Frontier
novel
 
October 1998
Triangle: Imzadi II
The Next Generation
novel
 
October 1998
Double Helix, Book 5

Double or Nothing
New Frontier
novel
 
August 1999
I, Q
The Next Generation
novel
  John de Lancie
September 1999
The Quiet Place
New Frontier
novel
 
November 1999
Dark Allies
New Frontier
novel
 
November 1999
Enterprise Logs

Shakedown
Star Trek
short story
 
June 2000
Excalibur, Book 1

Requiem
New Frontier
novel
 
September 2000
Excalibur, Book 2

Renaissance
New Frontier
novel
 
September 2000
Excalibur, Book 3

Restoration
New Frontier
novel
 
November 2000
Gateways, Book 6

Cold Wars
New Frontier
novel
 
October 2001
Gateways: What Lay Beyond

Death After Life
New Frontier
novella
 
November 2001
Being Human
New Frontier
novel
 
November 2001
Gods Above
New Frontier
novel
 
October 2003
No Limits

---

New Frontier
anthology

---

  edited with Keith R.A. DeCandido

---

 

October 2003
Stone and Anvil
New Frontier
novel
 
October 2003
Tales of the Dominion War

Stone Cold Truths
New Frontier
short story
 
August 2004
After the Fall
New Frontier
novel
 
November 2004
Tales from the Captain's Table

Pain Management
New Frontier
short story
 
June 2005
Missing in Action
New Frontier
novel
 
February 2006
Mirror Universe: Obsidian Alliances

Cutting Ties
New Frontier
novel
 
March 2007
Before Dishonor
The Next Generation
novel
 
November 2007
Mirror Universe: Shards and Shadows

Homecoming
New Frontier
short story
 
January 2009
Treason
New Frontier
novel
 
April 2009
Blind Man's Bluff
New Frontier
novel
 
April 2011
The Returned, Part 1
New Frontier
eBook
 
July 2015
The Returned, Part 2
New Frontier
eBook
 
August 2015
The Returned, Part 3
New Frontier
eBook
 
September 2015
Comics
Audiobooks
Appendices
Connections
External links