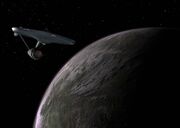 Planet Q was an inhabitable planet located in the Arcturian system. By the late 23rd century, Planet Q was the site of a Federation colony. (TOS novelization: The Conscience of the King)
By the 2260s, researcher Thomas Leighton and his wife Martha had located themselves on the colony. During a visit by the Karidian Company of Players in late 2266, Leighton discovered that Anton Karidian was actually the wanted mass murderer, Kodos the Executioner.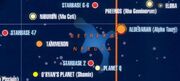 After making the discovery, Leighton had the USS Enterprise diverted to Planet Q and pleaded with Captain James T. Kirk to investigate and hopefully expose Karidian. (TOS episode: "The Conscience of the King")
Community content is available under
CC-BY-SA
unless otherwise noted.