Pollux IV was a planet, the fourth planet of the Pollux star system located in Federation space, in the galaxy's Beta Quadrant.
In the year 2267, the USS Enterprise was drawn to the planet by the god-like being Apollo, who had been living on the planet since he and the other Greek gods left Earth five thousand years earlier. (TOS episode & Star Trek 7 novelization: Who Mourns for Adonais?)
In 2268, James T. Kirk, while disguised as a pirate, told Black Jack Nova that he had taken half of a map showing the location of a stolen dilithium shipment off the body of a man he had met on Pollux IV. (TOS comic: "The Flight of the Buccaneer")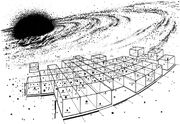 Pollux IV was noted on star charts of the galaxy's explored regions in the 23rd and 24th centuries, in an area of the projection also containing Benecia, Beta Geminorum, Omega Cyngi and Alpha Majoris. (TOS movie: The Undiscovered Country, TNG episodes: "Conspiracy", "The Measure of a Man", "The Emissary", "The Mind's Eye", "The Game", DS9 episodes: "In the Hands of the Prophets", "Cardassians")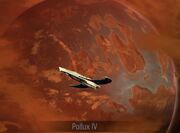 In an alternate timeline afflicted with the temporal anomaly crisis, Vice Admiral William T. Riker sent Starfleet to Pollux IV to complete a cadet challenge mission around the year 2380 and beyond. (ST video game: Timelines mission: "Cadet Challenge")
Community content is available under
CC-BY-SA
unless otherwise noted.