For other uses, see Poseidon.
The Poseidon class was a series of United Earth destroyer starships in Earth Starfleet service around the time of the 2150s decade. It became a Federation starship class following the founding of the Federation in 2161. The Poseidon was considered a variant of the NX-class. (ST video game: Legacy, ENT - Rise of the Federation novel: Live by the Code)
History
During the latter half of the 2150s, ships of the Poseidon class were among those which saw action against the Romulan Star Navy in the Earth-Romulan War. (ST video game: Legacy)
The heavily armed Poseidon class was developed late in the war as an NX-variant destroyer. It was intended to replace the smaller Neptune-class.
By July 2165, the Poseidon- and Ceres-class projects were competing with one another for further development by the UESPA and Alpha Centauri Space Research Council arms of Starfleet. Members of staff favored the Poseidon as the Ceres was considered redundant due to the performance of the Daedalus-class. However, Starfleet Chief of Staff Jonathan Archer found the Poseidon too heavily armed for a peacetime vessel. (ENT - Rise of the Federation novel: Live by the Code)
Specifications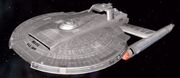 In 2159, these vessels were equipped with ten phase bank and eight Spatial/Photonic torpedo launcher banks, and were protected by polarized hull plating. The Poseidon-class was a contemporary design to the earlier NX-class design and shared many similar components, such as the saucer section and warp nacelle designs. The Poseidon design was a slight modification on the NX as the nacelle pylons were slung underneath the ship, while a dedicated torpedo launcher module was connected to the upper hull. This feature would be repeated across many starship designs over the next 200 years, including the Miranda-class and Nebula-class designs. (ST video game: Legacy)
Known vessels
Appendices
Connections
Background
No explanation is given for these vessels' Federation Starfleet-style registry numbers and their use of the "USS" name prefix, despite existing two years before the inception of the Federation.
The game software included numerous other names for ships of this class that were not prepared to be used in gameplay, and are hidden in the game's source code, including USS Adams, USS Aurbach, USS Boston, USS Commonwealth, USS Concord, USS Fenway, USS Liberty, and Paul Revere. Possibly, these vessels were intended for some feature of the game that was not completed. For example, none of these ships are coded with registry number graphics like those the included ships possess.