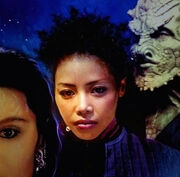 Pria is the alter ego of Prynn Tenmei in Elias Vaughn's second orb experience.
Pria was the daughter of Eli Underwood and his wife Ruri. She is a stubborn, smart, beautiful and impulsive person.
When she was twelve she decided she wanted to go to the beach, her mother said she was too busy, so Pria took Ruri's car and started out on her own. She got three blocks before hitting a curb and ended up in their neighbors' rosebushes. Eli was at a meeting in DC so he missed this, along with most of her life. (DS9 novel: Unity)
Community content is available under
CC-BY-SA
unless otherwise noted.