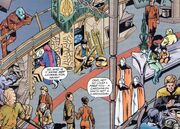 The Promenade was an area of Deep Space 9. It was the hub of social activity on the station featuring many shops and services for the residents and visitors to the station; these include:
In 2370, the Promenade was one of the first places a group of recently hatched and hungry Horta found their way to on the station, enjoying the various delights the establishments of the promenade had to offer and causing mayhem in the process. (DS9 novel: Devil in the Sky)
In 2376, Bajoran First Minister Shakaar Edon was assassinated on the Promenade just as he was about to thumb the documents that would bring Bajor into the United Federation of Planets. (DS9 novel: Cathedral)
Community content is available under
CC-BY-SA
unless otherwise noted.