Prometheans is a hardcover omnibus of the fifth and sixth books in the Star Trek: New Frontier series published by the Science Fiction Book Club in 1998.
Blurb
[
]
From the inside cover

When The Great Bird of the Galaxy hatched from the heart of the planet Thallon, it destroyed that world and caused the fall of the Thallonian Empire. The U.S.S. Excalibur and its extraordinary crew survived the cataclysm, but can they survive what will come next?
Martyr: With the ancient Empire gone, civil war threatens the planet of Zondar. The arrival of the U.S.S. Excalibur is greeted with relief and celebration by the anxious populace, and Captain Mackenzie Calhoun is acclaimed as their prophesied savior. But one believer's messiah is another's blasphemer - and a prime candidate for martyrdom. When Captain Calhoun is captured, Lieutenant Commander Burgoyne must find him before an alien fleet launches a holy war against the Federation.
Fire on High: Ten Years ago, Lieutenant Robin Lefler's mother died in a shuttle crash on Earth. Or so she thought. When an alien government in Thallonian space turns a mysterious human captive over to the Excalibur, there's no doubt that the woman is Lefler's long-lost mother. But Morgan Primus is not who, or what, Robin thinks she is. Before her capture, Morgan had been searching the galaxy to find a highly advanced elder race called the Prometheans - a mission she intends to continue. And now the survival of the Excalibur may depend upon whether or not she succeeds.
Contents
[
]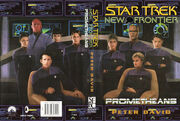 Appendices
[
]
The omnibus had a wraparound cover that features Dru Blair's cover art of both Martyr and Fire on High.
Connections
[
]
Timeline
[
]