"Prophet Motive" was the 62nd episode of Star Trek: Deep Space Nine, the 16th episode of the show's third season, first aired during the week of 20 February 1995. The episode was written by Ira Steven Behr and Robert Hewitt Wolfe and directed by Rene Auberjonois.
Summary
After the Grand Nagus rewrites the Rules of Acquisition, Quark and Rom attempt to find the reason for Zek's odd behaviour before Zek's changes upend Ferengi society.
References
Characters
Julian Bashir • Broik • Jadzia Dax • Emi • Kira Nerys • Maihar'du • Morn • Miles O'Brien • Odo • Quark • Rom • Benjamin Sisko • Zek • Bashir Prophet • Dax Prophet • Emi Prophet • Kira Prophet • Maihar'du Prophet • Rom Prophet • Sisko Prophet •

"Medical Bigshot" of the Federation Medical Council
Referenced only

Curzon Dax • Ishka • Keldar • Nog • Keiko O'Brien • Ghee P'Trell •

Henri Roget

•

Senva

•

April Wade
Locations
Referenced only

Altair IV • Andoria • Bajor • Cardassia III • Ferenginar • Sacred Marketplace • Tower of Commerce • Nairobi • Vulcan
Starships and vehicles
Races and cultures
Referenced only
States and organizations
Referenced only

Central Hospital of Altair IV •

Federation Medical Council

• Starfleet Intelligence •

University of Nairobi
Other references
agriculture • Aldebaran whiskey •

barley

• Carrington Award • cargo bay • champagne • chirurgeon • darts •

devolution

• doctor • Ferengi Rules of Acquisition • Grand Nagus of the Ferengi Alliance • healer • Hupyrian beetle snuff •

Kohlanese barley

• latinum • millipede juice • non-corporeal lifeform • oo-mox • orb • Orb of Wisdom • PADD • racquetball • replicator •

reverse-ratcheting routing planer

• Saurian brandy • self-sealing stembolt • solar flare • starbase • stasis • subspace • tongo • tooth sharpener • Trixian bubble juice
Appendices
Related media
The 34th Rule depicts the events leading up to the return of the Orb of Wisdom to the Bajorans.
The Carrington Award has since been mentioned in other stories, with Chris Pike and Leonard McCoy among those who have received it.
ST reference: The Star Trek Encyclopedia

Information about this episode is presented consistently in the third and fourth volumes.
Background
Notable cast and crew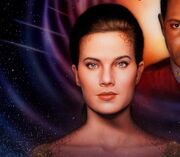 Images
Connections
Timeline
External links