Psi 2000 was a planet, a class P world in the Psi 2000 star system located near Federation space, somewhere in the galaxy's Alpha or Beta Quadrants. Psi 2000 disintegrated in 2266.
Prior to the disintegration of Psi 2000, a Federation survey team established outpost ULAPG42821DB on the planet, and was studying the large gravitational shifts, which also resulted in large strings of water molecules and polywater, which in turn resulted in the Psi 2000 virus. The members of the survey team soon succumbed to the virus and quickly died when someone adjusted the environmental controls and they froze to death.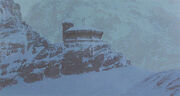 When the USS Enterprise arrived to collect the team several weeks later, they discovered that the whole team was dead, but the virus was also transferred to the Enterprise by Lieutenant Joe Tormolen. The virus quickly spread through the Enterprise crew, and in a state, Lieutenant Kevin Riley entered engineering and shut-down the warp engines, leaving the Enterprise stranded in decaying orbit of a disintegrating planet. Thankfully, Lt. Commander Montgomery Scott (with less than 30 minutes) was able to initiate a matter/antimatter cold-restart of the engines; breaking away with enough power for a Slingshot effect-thus escaping from danger. (TOS novelization: The Naked Time; TOS - The Janus Gate novel: Present Tense)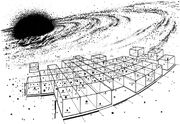 Psi 2000 was noted on star charts of the galaxy's explored regions in the 23rd and 24th centuries, in an area of the projection also containing Delta Vega, Makus III and Memory Alpha. (TOS movie: The Undiscovered Country, TNG episodes: "Conspiracy", "The Measure of a Man", "The Emissary", "The Mind's Eye", "The Game", DS9 episodes: "In the Hands of the Prophets", "Cardassians")
Community content is available under
CC-BY-SA
unless otherwise noted.