Pyris VII, alternately rendered Pyriss VII[1] or Pyrix VII[2], was a planet, the seventh planet of the Pyris star system located near Federation space, somewhere in the galaxy's Alpha or Beta Quadrants. (TOS episode & Star Trek 8 novelization: Catspaw)
History
Prior to the year 2267, the Federation conducted several surveys of the planet and discovered that there were no signs of life located there.
In the 2260s decade, the extragalactic Old Ones Korob and Sylvia established themselves on the planet for the purpose of learning about the Federation. When the USS Enterprise visited the planet in 2267, Korob and Sylvia engineered the capture of several crewmembers and used a variety of "magical" tricks on them such as voodoo, to keep the Enterprise crew on the planet.
However, Sylvia quickly became infuriated with the sensations of taking humanoid form, and became dangerously irrational. In order to defeat the aliens and escape the planet, Captain James T. Kirk destroyed their transmuter, and the aliens quickly perished. (TOS episode & Star Trek 8 novelization: Catspaw)
When contemplating the fate of Gary Seven's cat Isis, Captain Kirk recalled his run-in with a giant cat on Pyriss VII that nearly had him for lunch. (TOS novel: Assignment: Eternity)
The planet was referred to as Pyriss VII in Assignment: Eternity.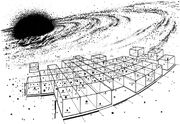 Pyrix VII was noted on star charts of the galaxy's explored regions in the 23rd and 24th centuries, in an area of the projection also containing Beta Lyrae, Capella and Alpha Centuri. (TOS movie: The Undiscovered Country, TNG episodes: "Conspiracy", "The Measure of a Man", "The Emissary", "The Mind's Eye", "The Game", DS9 episodes: "In the Hands of the Prophets", "Cardassians")
The planet was referred to as Pyrix VII in the TNG background artwork explored galaxy chart.
In 2411, the Old Ones returned to Pyris VII and took up residence in Castle Pyris. They requested help from the Khitomer Alliance when the Devidians became a threat to the aliens and their transmuter technology. (STO website: The Fall of the Old Ones)
Known locations
Appendices
Connections
Appearances and references
External link