For other uses, see Qa'HoS.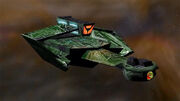 The qa'HoS class (or Relentless-class) was a type of light cruiser starship that was used by the Klingon Empire's Defense Force in the 23rd century, around the year 2282.
These cruisers were a hull design introduced in the annual Klingon war games ceremony of that year. The ship was noted for its excellent speed which was the best in the fleet at the time. Though it was a new craft, the hull itself can be dated back to the 2250s during the time when the D6-class were retired for the newer D7-class which are found presently. However, the Relentless class only resembles the older design in appearance alone. Combat simulations show that these ships are an easy match against the Federation Miranda-class light cruisers thanks to the stronger hull of the qa'HoS, as well as somewhat larger size.
Its combat capabilities make it very flexible for a variety of roles. It can go on long range operations without support from a base and has enough firepower to fight larger enemy warships. Even though its power to weight ratio is not the equivalent to the honorable Insurrection-class destroyers, the two are often paired with one another for quick, rapid, precision strikes against enemy targets. (TOS video game: Klingon Academy)
Connections
[
]