For other uses, see Qu'Vat.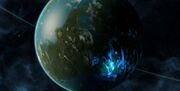 Qu'Vat City was a Klingon settlement, a city on planet Qu'Vat II and the capital city of Qu'Vat colony. It was located in the southern hemisphere. (STO - House Shattered mission: "The Centre Cannot Hold")
History and specifications
Qu'Vat was an outpost with millions of inhabitants as early as the 22nd century. In the 2150s decade, two of the three planetary population centers were located in the southern hemisphere. (ENT episodes: "Affliction", "Divergence")
The Qu'Vat system was the site of a battle during the Klingon Civil War of 2411 in the 2410s.
On the first day of the war in the year 2411, Khitomer Alliance and forces loyal to Chancellor J'mpok attempted defending the planet from the rogue House of Mo'Kai. Aakan assumed control of the mycelial weapon aboard the Mo'Kai flagship IKS Lukara and fired it on Qu'Vat City, engulfing it in matter from the mycelial network and eradicating its population.
Captain Koren of the KDF flagship IKS Bortasqu' was shocked by the destruction of a non-military target like Qu'Vat City. (STO - House Shattered mission: "The Centre Cannot Hold")