For other uses, see

Quadrant

.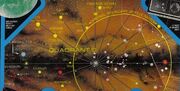 Quadrant 0 was a stellar region, an area of space located on either side of the galaxy's Alpha and |Beta[1] Quadrants. (ST reference: Star Trek Maps)
History and specifics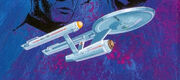 In the 23rd century, quadrant 0 was defined as an area that include the original boundary of the United Federation of Planets. The Federation Starfleet starship USS Enterprise explored quadrant 0 during a five-year mission in the 2260s decade, which lasted from the year 2265 to 2270.
Starbase 1 was located sixty parsecs from Earth, in quadrant 0.
Federation territory also extended into Quadrant 1, another treaty boundary quadrant. (ST reference: Star Trek Maps)
References