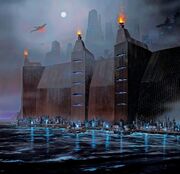 Quin'lat is a settlement on Qo'noS.
According to legend, Kahless was present at Quin'lat when a storm hit the city. (TNG episode: "Rightful Heir"; ST reference: The Klingon Art of War: Ancient Principles of Ruthless Honor)
The poet G'trok was born in Quin'lat. (ST reference: Federation Travel Guide)
In 2381, Quin'lat was attacked by the Borg, with an estimated eleven million casualties. (ST - Destiny novel: Lost Souls)
Community content is available under
CC-BY-SA
unless otherwise noted.