For other uses, see Raal.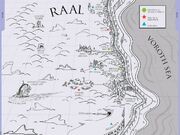 Raal was a province on Vulcan. (VOY episode: "Innocence")
It occupied the western edge of the continent of Na'nam and included most of the navigable coastline along the Voroth Sea. Raal was one of the most geologically stable locations on the planet and contained a number of old settlements. Almost half of the province was temperate coastlands which laid along the Voroth as well as the Na'ree River Valley, whose watercourse was navigable by small boats for two or three months a year. There were numerous smaller cities and towns in the province which held a population ranging from 10,000 to 80,000 people.
This region held both the Fire Plains and the city of Vulcana Regar was largest population center. The Fire Plains were often a popular tourist attraction with guided expeditions given through the spectacular wonder though this was not done during solar flare season as only the most brave or foolish journey through the plains at their own risk. Vulcana Regar was also a primary location for trade purposes. There were also pleasure cruises across Voroth to Kwil'inor on solar assisted sailing ships. (Last Unicorn RPG module: The Way of Kolinahr: The Vulcans)
The USS Raal was named for the location on Vulcan. (DS9 video game: Dominion Wars)
External link