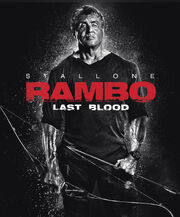 Rambo V (also known as Rambo: Last Blood) was a Human movie, a film that was released in the year 2019 on the planet Earth.
History and specifics
[
]
This was the fifth movie made starring the eponymous John James Rambo character.
In 2369, Worf and William Riker discussed films over a Klingon food dinner which included scrag. Worf informed Riker that his examination of ancient film archives yielded Rambo V, which Worf referred to as a glorious tale with roots in comedy, which contained frequent, honorable displays of hand-to-hand combat, obvious villains and a hero who never speaks. Riker asked what was so glorious and Worf simply responded that everyone dies. Riker changed the subject to say that he had found another comedy. (TNG novel: Debtors' Planet)
At the time of the Debtors' Planet mention, there had only been three Rambo films, but the novel correctly predicted the fifth film in the series, and that it would contain graphic violence. During production, the placeholder title "Rambo V" was replaced with "Rambo: Last Blood". The novel made a tangential reference to the hero never speaking in the course of the film, which could be hyperbole to describe the sparse dialogue of the Rambo character.
Appendices
[
]
References
[
]
External links
[
]