For other uses, see Raptor.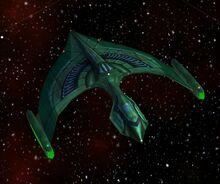 The Raptor class was a type of Romulan cruiser starship in the Imperial Star Navy in operation in the late 24th century.
Two distinct variations of Raptor-class vessels exist. A thin-necked cruiser modification was in use in the 2370s, with a specialized complement of launchers for a variety of projectile weapons. These included a tricobalt torpedo (the technology of which was believed to have been stolen from the Federation) and a torpedo designed to deliver a myotronic inhibitor against another vessel (TNG video games: Armada, Armada II).
The cruiser modification seemed to have been used over a number of years, as well as in alternate timelines (ST video games: Legacy, Conquest).
The Raptor was also built in a wide-necked heavy battle cruiser modification. This vessel was designed as a battle cruiser with long range and equipped with exploratory sensors and laboratories. Many of these vessels were active around 2378 (TNG video game: Starfleet Command III).
Community content is available under
CC-BY-SA
unless otherwise noted.