"Rapture" was the 108th episode of Star Trek: Deep Space Nine, the 10th episode of the show's fifth season, first aired during the week of 30 December 1996. The episode was written by Hans Beimler and L.J. Strom and directed by Jonathan West.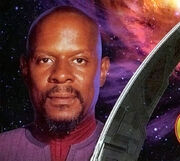 Benjamin Sisko experiences visions that let him see the future, as Bajor's admission into the Federation is about to go ahead.
While Admiral Charlie Whatley visits Bajor for the Federation admission ceremonies of that world, Benjamin Sisko begins to have flashes of insight to the lost city of B'hala. The discovery of B'hala is a portentous event described in the prophecy of the Bajoran religion, as it will signal a specific series of dramatic results as an interaction with the Prophets and their Celestial Temple.
Sisko's intense visions warn him of danger as Bajor stands ready to join the Federation. The superstitious Bajorans listen to Sisko, who they have named their Emissary to the Prophets, causing Admiral Whatley to grow concerned about the power that Sisko holds. Julian Bashir warns that the visions could be destroying Siskos's brain, and recommends a procedure to stop the contact with the wormhole aliens. With Sisko losing his grip on reality, Jake Sisko gives consent for his father's surgery.
Sisko's final remembrance of this mental contact warns of an oncoming swarm of enemies which would destroy Bajor if it were a Federation member, and Bajor accordingly withdraws from the potential membership.
References
Edit
Characters
Edit
Julian Bashir (changeling) • Colti • Jadzia Dax • Jones (Lieutenant) • Kira Nerys • Mera • Morn • Miles O'Brien • Odo • Quark • Benjamin Sisko • Jake Sisko • Veta • Charlie Whatley • Winn Adami • Worf • Kasidy Yates • Yevir Linjarin • Deep Space 9 personnel (Deep Space 9 residents) • unnamed Starfleet personnel (Starfleet personnel) • unnamed Bajorans (Bajorans)
Referenced only 

Rifkin • Rom • Joseph Sisko • Kevin Whatley • Zocal
Locations
Edit
Referenced only 
Starships and vehicles
Edit
USS Defiant (Defiant-class escort, in opening credits) • USS Leeds (Nebula-class explorer, in opening credits) • USS Rio Grande (Danube-class runabout) • Janitza-class (assault ship)
Referenced only 
Races and cultures
Edit
Referenced only 
States and organizations
Edit
Referenced only 
Other references
Edit
admiral • Alvanian bee • Alvanian beehive • archaeology • Bajoran history • Bajoran prophecy • Bajoran religion • Bajoran wormhole • bantaca (bantaca spire • basal ganglia • bateret • bateret • bicycle • captain • central nervous system • champagne • com signal • City of B'hala • Dominion War • Dominion cold war • dizziness • Emissary of the Prophets • Federation flag • headache • holosuite • icon painting • isolinear rod • jambalaya • kai • katterpod • keelhauling • latinum • lingta • locust • magistrate • mortar • naval tradition • negligence • neural sheath • neuropolaric induction • obelisk • Occupation of Bajor • orb • orb experience • Orb of Prophecy and Change • PADD • pagh'tem'far • Peldor Festival • phaser • physical • pleasure maze • post-neural shock syndrome • prison camp • root beer • sensor array • Sisko image file 376 • star system • Starfleet uniform • Starfleet uniform (2373-2386) • swarm • toast • transporter • tricorder • vedek • Zocal's Third Prophecy
Appendices
Edit
Related media
Edit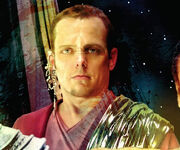 Video releases
Edit
Background
Edit
Notable cast and crew
Edit
Connections
Edit
External links
Edit
Community content is available under
CC-BY-SA
unless otherwise noted.