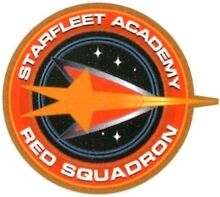 Red Squad or Cadet Training Squad 47 were an elite group of cadets at Starfleet Academy in the late 24th century. Members of the squad received special classes and were granted special advanced fieldwork training.
In 2372, members of Red Squad aided Admiral James Leyton in his attempted coup d'etat on Earth, by disabling Earth's power distribution center in Lisbon. (DS9 episodes: "Homefront", "Paradise Lost")
Other cadets were assigned to other key postings, such as Bael Nomine on Starbase 375. (TNG eBook: Slings and Arrows: The Oppressor's Wrong)
Johnny Madden became a member of Red Squad in 2372, a fact that annoyed Jayme Miranda as she felt the group was elitist. (TNG novel: The Best and the Brightest)
In late 2373, a group of Red Squad cadets were assigned to the USS Valiant for an advanced training mission that we see them circumnavigate Federation space. However, part way into their voyage the Dominion War broke out, and the Valiant found itself behind enemy lines. When the ranking officers aboard the ship were killed, Cadet Tim Watters assumed command, and kept the ship behind enemy lines. For eight months, the Valiant participated in missions behind the lines, until they engaged a Jem'Hadar battleship. They were heavily outmatched and eventually destroyed, only three survivors made it back to Federation space. (DS9 episode: "Valiant")
In 2374, Dorian Collins was awarded the Drakon Cluster of Courage. Tim Watters, Karen Farris and the rest of the deceased Red Squad members of the USS Valiant were awarded it posthumously. (DS9 short story: "Dorian's Diary")
After the Dominion War, members of Red Squad were involved in the skirmish with the awakened Kam'Jahtae. (TNG video game: Invasion)
Community content is available under
CC-BY-SA
unless otherwise noted.