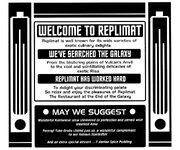 A Replimat was a type of self-service establishment where foods and drinks were vended by replicators.
Deep Space Nine
The Promenade on Deep Space 9 featured a replimat. In 2370 several of the tables at the DS9 replimat were eaten by a group of hungry juvenile Hortas. (DS9 novel: Devil in the Sky)
In 2371, Nicolas Sardopolous became the new owner of the Replimat. Sardopolous later lost ownership to Laertians. (DS9 novel: The Laertian Gamble)
In 2376, a new manager started at the Replimat. This was announced in a Promenade Merchants' Association transmission. (DS9 novel: Andor: Paradigm)
Available foods and beverages
USS Titan
In the 2380s, the Luna-class USS Titan was equipped with a replimat.
In 2386, Melora Pazlar noted that she'd been stood up several times by Xin Ra-Havreii at the ship's replimat. (TTN novel: Sight Unseen)
Appearances
2369

2370

2371

2372

2373

2374

2375

2376
Appendices
Connections
External link