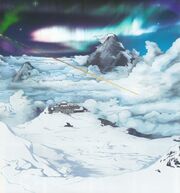 Riat was a planet, at least part of which consisted of a snowy mountainous region. Riat's star suffered high levels of solar flare activity which effected sensors of ships near the planet and washed the world with radiation.
The planet was home to at least one Dracon monastery. In 2369 the monastery's water supply had been infected by an algae which had been mutated by the solar flare radiation, when the monks consumed the water it induced a mutation in them, making them violent and possibly cannibalistic.
In that year the solar flare forced the shuttlecraft Goddard, containing Geordi La Forge, Worf, and Ro Laren, to drop out of warp and crash-land on Riat, near the monastery. The stranded crew made their way to the monastery where they soon came under attack by the monks. When the USS Enterprise arrived to retrieve the shuttle crew they also administered a cure to the monks infection. (TNG - The Space Between comic: "Light of the Day")
Community content is available under
CC-BY-SA
unless otherwise noted.