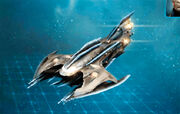 The Rigellian destroyer is a type of starship, a destroyer-type vessel used by the Jelna race of Rigellians.
History and specifications
[
]
Their race used this vessel in the 23rd century of the Kelvin timeline. When a vessel of this type is destroyed, deposits of parsteel could be recovered. (ST video game: Fleet Command)
Systems visited
[
]
Rigellian destroyers were well-traveled by the 2260s decade, and had visited a number of systems.
Lotch

•

Orkon

• Kepp • Hessen •

Bohvanderro

•

Mulk

• Lockred • Xoja • Ramexik •

Panuq

• Pinikou • Odal • Entrunar • Landi • Vinmaier • Lunfa • Poservoz •

Cecin

• Nurt • Taoji •

Resola

•

Patton system

• Agrico •

Bridford

• Dolcan • Alacti •

Follin

•

Doma

• Benzi •

Bo-Jeems

•

Corla

•

Barra

•

Soeller

•

Dalfa

•

Slawlor

•

Tohvus

• Zanti • Zukerat •

Toshen

•

Poja

•

Nidox

•

Lipas

•

Bodex

•

Reelah

• Baw •

Boorhi

• Ruli •

Iora

• Alorina •

Mayagrazi

• Didi • Beyven •

Skelg

•

Lasairbheatha

• Quirad •

Pimo

•

Sido

•

Vemarii

•

Halkon

•

Cospilon

•

Dovaler

•

Heima

•

Groshi

•

Izbel

• Estrada •

New Sligo

•

Rabalon

•

Melllvar

•

Lanoitan

•

Konockt

• Wokapa • Maynard • Aetisan •

Saqua

•

Jobe

•

Feer

•

Kerao

•

Lyquan

• Laurgatt •

Falko

•

Wuver

•

Muhen

•

Khic

• Cymon • Maq •

Jeybriol

•

Donnel

•

Wagirur

•

Vinland

•

Soman

•

Takik

•

Injerra

•

Delbaana

•

Obbia system

• Zorga •

Dauan

•

Junid

•

Colt system

•

Aker

•

Vawur

•

Hroga

•

Yerma

•

Berebul

•

Laxos

•

Klora

•

Vatok

• Lyra system
Appendices
[
]
References
[
]