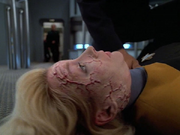 Roberta Luke was a Human woman in the 24th century, a Starfleet lieutenant who served aboard the Federation starship USS Voyager and also a member of Section 31. Luther Sloan had Roberta Luke assigned to Voyager to gather information on the Maquis that Section 31 hoped would allow them to eliminate the expatriate group.
In the year 2374, Luke came to see Seven of Nine as a threat to Voyager and planned to kill her. Before her death at the hands of the Srivani, Luke modified a bioneural gel pack to kill Seven, resulting in the ship creating a series of accidents with the goal of eliminating Seven. (VOY - Section 31 novel: Shadow; VOY episode: "Scientific Method")
Community content is available under
CC-BY-SA
unless otherwise noted.