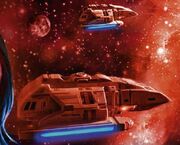 A runabout was a small warp-capable vessel, similar to a shuttlecraft, but providing for more interior space and crew amenities for extended interstellar trips.
The Federation Starfleet Danube-class of starships were refered to as runabouts. (DS9 episode: "Hippocratic Oath")
A type of runabout was assigned to the USS Voyager. (VOY novel: Cybersong)
The Cardassians also operated runabouts, such as the defense runabout. (DS9 novelization: The Way of the Warrior)
By 2409 the Romulans had their own model of runabout, the Kestrel-class. (ST video game: Star Trek Online)
Alternate timeline
Edit
In an alternate timeline, in 2372, Starfleet also developed the Yellowstone-class runabout; a very similar design to the Danube-class, featuring tetryon plasma warp nacelles. (VOY episode: "Non Sequitur")
Alternate reality
Edit
In the Kelvin timeline created by Nero and Spock, Starfleet used runabouts in the 2250s decade. (ST - Starfleet Academy novel: The Gemini Agent)
Runabout classes
Edit
Federation Starfleet
Edit
Cardassian
Edit
Runabouts of unknown class
Edit
Appendices
Edit
Connections
Edit
External link
Edit
Community content is available under
CC-BY-SA
unless otherwise noted.