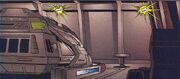 A runabout pad (or runabout bay) is a specific type of shuttlebay designed to accommodate runabout-type starships. Many runabout bays are designed to completely enclose a landed craft in some way, so that it can be launched immediately.
On the Nor-class of space stations, there exist at least six landing pads that fit this description. Deep Space 9, when placed under Federation control, had these pads converted to launch runabouts. The pads consisted of an upper door that opened, and an elevator that lifted the runabout to the outer hull's surface. The elevator could then be left raised to accept other incoming traffic. There was a docking airlock that could be attached to the landed craft. (Star Trek: Deep Space Nine)
The Vesta-class is a type of Starfleet vessel with this kind of bay on it's aft section. The runabout landing pad opens up to expose a bay that goes down through two decks, with accommodation for two runabout vehicles.
Appendices
[
]
Connections
[
]
External link
[
]