The SS Emmette was a Human starship, a United Earth Ganges-class escort in Starfleet service in the first half of the 22nd century. (ENT episode: "Broken Bow" opening credits, The Official Starships Collection Issue 82: "United Earth Starfleet Warp Delta")
The Emmette was launched at some point after Zefram Cochrane's Phoenix warp-ship prototype and the warp 5 explorer Enterprise NX-01. At one point, Emmette visited the Lunar Colonies, flying across Lunar Colony One. (ENT episode: "Broken Bow" opening credits, Star Trek Shipyards reference: Starfleet Ships 2151-2293)
In the mirror universe version of the credits - shown in "In a Mirror, Darkly" - the ISS Emmette is shown firing on the lunar colonies.
Emmette was part of the Ganges-class, or "Warp Deltas", launched in the 22nd century. As such, the ship was about 130 meters long and could carry a crew of 20. Initially, the UES Warp Delta and its sister ships had a top speed approaching warp 2 and featured rocket-style engines at the rear. While the hull was compact and triangular as its successors, Emmette's hull was shorter, and the nacelle pylons were angled differently. Following upgrades to hull and engines, Ganges-class starships could reach warp 3. (The Official Starships Collection Issue 82: "United Earth Starfleet Warp Delta")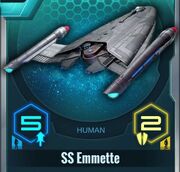 At some point in the 22nd century, the Emmette was refitted to Ganges-class escort standards, including a change to the wing layout and receiving a bridge module, windows and updated impulse engines.
The Emmette, retaining its SS prefix, was active around the year 2161 and saw action against the Klingons in the early days of the Federation. (ST video game: Adversaries)
Appendices
Edit
Connections
Edit
References
Edit
↑ 1.0 1.1 ST reference: Star Trek Shipyards Volume 1: Starfleet Ships 2151 - 2293
External link
Edit
Community content is available under
CC-BY-SA
unless otherwise noted.