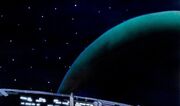 Sakelo City is a settlement on the planet Bajor.
In the year 2369, Julian Bashir visited Sakelo City aboard the shuttle Einstein, with Jake Sisko and Nog stowing away onboard. Bashir was detained by Tikar Antol's Turnaways and taken to Fanto's Rip. (DS9 novel: Stowaways)
Community content is available under
CC-BY-SA
unless otherwise noted.