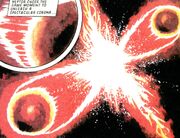 The Salgorax-Neptor system is a binary star system composed of the stars Salgorax and Neptor as well as at least two planets.
History and specifics
The system is located adjacent to the Ortadd galaxy in the the galaxy's Alpha or Beta Quadrant. It is the home system for a Federation colony as well as a warlike species of bipedal frogmen.
In 2265, the Federation starship USS Enterprise visited the system and orbited Santar. They were witness to a rare celestial event when the binary stars flared synchronously. (TOS comic: "Slaves of the Frogmen")
System makeup
Appendices
Connections
Alpha and Beta Quadrant stars and star systems (S)
Sadera • Sadora Rex • Sahndara • Sahqooq • Salayna • Salgorax • Salgorax-Neptor system • Samaara • Santora • Sanurna • Sarsithia • Sattenik • Saur • Savoy • Scheherazad • Seiji Major • Selta Avastam • Sentera • Sergane • Serris • Servitrix • Sestarci 124 • Shaandra • Shahkur • Sheratan • Sheridan • Sidianial • Sif • Sifts • Sigma Barana • Sigma Borella • Sigma Iotia • Sigma Kinna • Sigma system • Sigma Tama • Sigma Thernia • Sigma Zhukova • Silica Tare • Silicasa • Silivar • Silva • Sinbad • Sindarius • Singularity system • Sinisser • Sinnawa Lotos • Sinuiji • Sinuiji system • Sirrie • Skeevo • Skellen • Skondard • S'mtharz • Solaris • Soltaris • Soran • Sorenle • Spartal • Spikal • Stelam Deletham • Stillwell • Stirnis • Stygian • Suah'Dron • SX Arietis • Sybaron • Symbokovech • Synton
Alpha Quadrant stars and systems (S)
Sabik • Sadatoni • Sadr • Sakura • Saltok • Salva • Sandal • Sanelar • Sarin system • Sar'kell • Seginus • Selay system • Sepia • Septimus system • Setlik • Seyom •

Sigma Beta 443

• Sigma Coronae Borealis • Sigma Cygni 57 • Sigma Draconis • Sigma Pegasi • Sigma Serpentis • Slaybis • Socratii • Sol • Solarion
Beta Quadrant stars and systems (S)
Salieh • Samnar • Sankrax • Securis • Shahr • Sherman • Shekkis system • Sierra • Sigma Ceti • Sigma Geminorum • Sigma Librae • Sigma Pavonis • Sigma-1014 Orionis • Simon-316 • Sirius • Sirius A • Sirius B • Skorr system • Somraw • Spica • S'sgaron system • Suhail • Sya
References