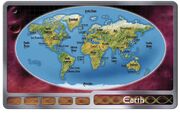 San Diego is a city located in the state of California, USA, on Earth.
History
After arriving in 1930 via the Guardian of Forever to await the arrival of Dr. Leonard McCoy, James T. Kirk referred to San Diego as one of the possible locations that McCoy could appear. (TOS episode: "The City on the Edge of Forever"; TOS - Crucible novel: The Fire and the Rose)
An historic car crash involving 2,000 vehicles once took place in San Diego. Hikaru Sulu recalled the incident in 2271. (TOS novel: The Captain's Daughter)
The San Diego Chronicle newspaper was published in San Diego in the 21st century.
In 2026, the city's baseball team, the San Diego Padres, played the Phoenix Sunsets in the World Series. (TNG novel: Fortune's Light)
In 2052, scientist Colin Blakeney performed the first successful Human transportation in San Diego. Previously he had beamed chimpanzee Harry about 50 meters, from the transporter pad in his laboratory to the top of a nearby van without the use of a receiving pad. During a scuffle with himself and his business partner George Pimintel, the transporter dematerialized them both, and the laboratory was destroyed in a fire. The transporter beam was intercepted in the 24th century by the USS Enterprise-E and both people safely rematerialized. (TNG comic: "Forgiveness")
By the 2370s, San Diego acted as a large transporter hub for Starfleet, manned by several dozen transporter chiefs. In 2378, a number of USS Voyager's former crew beamed to Voyager from the hub. (VOY novel: The Farther Shore)
Alternate realities
In the 1990s of an alternate reality, sleeper cell agents loyal to Khan Noonien Singh detonated a small nuclear bomb in San Diego during the Eugenics Wars. (DS9 - Myriad Universes - Infinity's Prism novella: Seeds of Dissent)
Authors Jeff Mariotte and Victoria Grant live in San Diego.
Appendices
Connections
External links