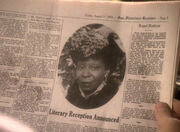 San Francisco Register was a daily newspaper, a news and information publication published in the city of San Francisco on Earth in the 1890s through the 23rd century.
History
[
]
The Friday, August 11, 1893 edition of the San Francisco Register printed a photo of Guinan on page 3. Jack London gave Data a copy of this edition.
The Sunday, August 13, 1893 edition reported on the death of hundreds from a cholera outbreak. Data read this edition while on the streets of San Francisco. (TNG episode: "Time's Arrow")
The Thursday, December 18, 1986 edition had the headline "Nuclear Arms Talks Stalled" along with the subhead "Geneva Summit in Doubt". The newspaper's slogan was "Largest Circulation in the World". James T. Kirk saw this edition in a newspaper display rack on the streets of San Francisco the day his crew time traveled to 1986 aboard the HMS Bounty. (TOS movie: The Voyage Home)
Appendices
[
]
Background
[
]
TOS novel: Elusive Salvation stated that the Bounty arrived on June 25, 1986, contrary to the date on the newspaper.
The Register was not a real-world newspaper. Thursdays in December 1986 were on the 4th, 11th, 18th, 25th, and 31st.
Appendices
[
]
Appearances
[
]
Connections
[
]
External links
[
]