For other uses, see

Sao Paulo

.
The Sao Paulo class was a 25th century Federation starship type, a class of tier 4 tactical escorts in Starfleet service from the 2400s decade. (STO - Klingon War mission: "Welcome to Earth Spacedock")
History and specifics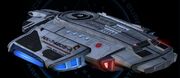 The Sao Paulo-class was one of the small, maneuverable warship types Starfleet based on the Defiant-class escort of the 24th century. The prototype, USS Sao Paulo (NX-74205-A), was launched in 2409, almost 35 years after the USS Sao Paulo (NCC-75633) was renamed USS Defiant in 2375.
The class was rated a tier 4 tactical vessel and equipped with Mark X-rated equipment, including phaser beam arrays and photon torpedo launchers. Its navigational deflector, deflector shield, warp drive and impulse engines were also rated Mk. X. (STO - Klingon War mission: "Welcome to Earth Spacedock")
From 2410 onward, the Sao Paulo-A represented its class in the Starfleet Shipyards Operations interface. (STO - The Iconian War mission: "Welcome to Earth Spacedock")
Khitomer Alliance flag officer in, or aligned with, Starfleet, deployed Sao Paulo-A for missions around the galaxy's four quadrants as part of the four-quadrant strategy. (STO - Delta Rising mission: "Welcome to Earth Spacedock", admiralty system)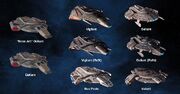 Following the Battle of Excalbia on stardate 84999.22[1] in January 2411, which saw the prominent involvement of hero ships from the Federation's past and present, the Sao Paulo-A was among the tactical escorts that received a refit to legendary starship qualifications. (STO - J'Ula's Discovery missions: "The Measure of Morality (Part 2)", "Welcome to Earth Spacedock")
The Sao Paulo-A was upgraded to a tier 6 legendary pilot warship, matching the qualifications of the upgraded Defiant class. (STO website: Legendary Pilot Warship)
Mirror universe
From 2409 to 2410, the Sao Paulo-class ISS Quantum was part of the Terran Empire fleets attacking Romulan Republic starbase Vauthil Station. (STO - Call to Arms mission: "Mirror Invasion")
Known ships
Appendices
Connections
References
External links