For other uses, see Sarah.
For other uses, see Heather.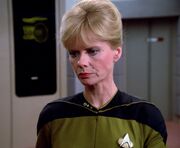 Lieutenant Commander Sarah MacDougal (also known as Heather MacDougal) served as one of the USS Enterprise-D's two chief engineers under Captain Thomas Halloway in 2363, splitting her duties with Michael Argyle. She was responsible for the operation and maintenance of the ship's systems. (TNG novel: The Buried Age, TNG short story: "Meet with Triumph and Disaster")
They were both still in the position at the time of launch under Captain Jean-Luc Picard, but she departed not long later. (TNG episode: "The Naked Now", TNG novel: A Time for War, A Time for Peace)
MacDougal stayed with the stardrive section when Captain Picard ordered a saucer separation to increase the odds of escaping from an alien creature. (TNG novel: Ghost Ship)
MacDougal was assassinated circa 2371 by a Zortai with a grudge against the chief engineers of the Enterprise. (TNG comic: "Suspect")
MacDougal was named "Heather" in The Buried Age.
This article or section is incomplete
This article is marked as lacking essential detail, and needs attention. Information regarding expansion requirements may be found on the article's talk page. Feel free to edit this page to assist with this expansion.
Connections
Chief engineers of the starships Enterprise
Enterprise (NX-01)
Tucker • Kelby • Burch
USS Enterprise (NCC-1701)
Kursley • Marvick •

Powell

• Fourrier • Pitcairn • Barry • Louvier • Grace • Burnstein • Scott
USS Enterprise (NCC-1701) (Kelvin timeline)
Olson • Scott
USS Enterprise (NCC-1701) (other alternate realities)
Scott
USS Enterprise (NCC-1701-A)
Scott
USS Enterprise (NCC-1701-A)
(alternate realities)
Grace
USS Enterprise (NCC-1701-B)
Buonarroti • Jennings
USS Enterprise (NCC-1701-C)
Kodell
USS Enterprise (NCC-1701-D)
MacDougal • Argyle • Logan • Lynch • La Forge
USS Enterprise (NCC-1701-D) (alternate realities)
Argyle • Crusher
USS Enterprise (NCC-1701-E)
La Forge
USS Enterprise (NCC-1701-E) (alternate realities)
Argyle • Crusher
ISS Enterprise (NX-01)
Tucker
ISS Enterprise (NCC-1701)
Scott • DeSalle
ISS Enterprise (NCC-1701-D)
La Forge
ISS Enterprise (NCC-1701-E)
O'Brien
Free Starship Enterprise
Barclay
External link