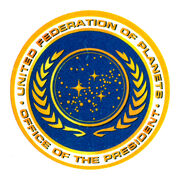 Sarboran was a Federation politician in the 23rd century, native to Vulcan, who was elected Federation President in 2260. (FASA RPG module: Star Fleet Intelligence Manual: Agent's Orientation Sourcebook)
Vanguard: Harbinger by David Mack establishes that a male president ran for re-election in 2264, one year prior to the main body of the story. In his annotations, Mack establishes that this male president was meant to be Kenneth Wescott. However, to accommodate Sarboran, we must assume that it was in fact Sarboran that the novel refers to rather than Wescott. Sarboran could not have died or retired, as this would have triggered a special election, yet Articles of the Federation by Keith R.A. DeCandido establishes that none ever occurred before Hiram Roth's death in 2288. Wescott's presence in the Palais in Errand of Fury: Seeds of Rage establishes that Sarboran could have served only one term. An alternate possibility, of course, is to disregard Sarboran in favor of an earlier first term for Wescott, or to place Sarboran into an alternate continuity. The succession box and template follow this choice.
Community content is available under
CC-BY-SA
unless otherwise noted.