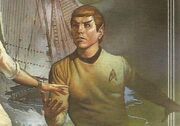 Lieutenant Sarda was a Vulcan man, a Starfleet officer assigned to the USS Enterprise under Captain James T. Kirk in the year 2270.
Biography
Sarda and his human companion Piper were instrumental in defeating the attempted military coup of the Federation by Vice Admiral Vaughan Rittenhouse and the recovery of stolen classified plans for transwarp technology. (TOS novels: Dreadnought!, Battlestations!)
Sarda came from the Vulcan countryside, and had copper-colored hair which was unusual for a Vulcan. Because of Sarda's fascination with weapons technology, the Vulcan Science Academy rejected him, claiming it would be immoral to nurture his talents. Sarda attended Starfleet Academy instead, where he became friends with Piper, his lab partner. Not understanding Vulcan morality, Piper told their training captain of Sarda's talent for weapons design, and he was awarded a position in that field. This breach of Vulcan ethics caused him to be ostracized by fellow Vulcans in Starfleet.
Sarda invented the image projector which was the most remarkable weapon of the prototype dreadnought USS Star Empire; however, Vice Admiral Rittenhouse took credit for the device. While trying to develop a synergist that would render toxic substances inert, Sarda again inadvertently violated his people's ethics by discovering an element that turned atmospheric nitrogen poisonous.
Upon graduation, Sarda was assigned to the USS Enterprise, where he served under Hikaru Sulu as second officer of weapons engineering and design. He became surprisingly friendly in a short amount of time with Judd "Scanner" Sandage, one of his roommates. Shortly after his former friend Piper was mistakenly assigned as his roommate, the two of them were swept up in the Rittenhouse crisis. For reasons of his own Sarda insisted on accompanying Piper in her unauthorized flight from Enterprise. As they uncovered Rittenhouse's plot and made their way to Star Empire to assist Paul Burch's counter-conspirators, Sarda and Piper renewed their friendship. For his actions in helping to defeat Rittenhouse's plans, Sarda was awarded the Starfleet Silver Palm and Star for Conspicuous Heroism. (TOS - Fortunes of War novel: Dreadnought!)
This article or section is incomplete
This article is marked as lacking essential detail, and needs attention. Information regarding expansion requirements may be found on the article's

talk page

. Feel free to edit this page to assist with this expansion.
Appendices
Connections
Appearances and references
Appearances