Scalos is the fourth planet of twelve orbiting an orange star in the Mutara sector. It is Class M and the homeworld of the Scalosian race. (Decipher RPG module: Worlds)
History
In the 22nd century, Scalos was normal Class M world that sustained a humanoid civilization advanced in the areas of cryogenics and medical technology. However, in 2268 the planet experienced a series of devastating volcanic eruptions which released an unknown form of radiation into the water supply affecting both the Scalosians and the local animal and insect life.
All life on the planet, due to the radiation, had its metabolism sped up once ingesting the contaminated water. Mere days became years or even decades for those affected by the water. Shortly after the disaster, all animal and insect life perished, whereas the Scalosians resorted to luring alien vessels into orbit around their planet in a desperate attempt to procreate their species. Through an ironic twist of fate, Scalosian women experienced increased fertility following the disaster, while Scalosian men became infertile. While alien ships would be cyrogenically frozen, men from captured alien vessels would be periodically taken, accelerated up to the speed of the Scalosians using the local water, and were then expected to father hundreds of children through the surviving Scalosian women.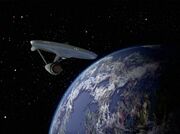 Eventually running short of alien men (less than 40 days after the initial disaster in 2268), the Scalosians then resorted to using a distress call to further lure others to their planet. The crew of the USS Enterprise, under Captain James T. Kirk, responded to the distress beacon (only 64 days after the initial disaster) and had to fend off an attempt to hijack their vessel by Scalosians intruders. Informing Starfleet of the Scalosians' true intentions, the planet was subsequently quarantined. (TOS episode: "Wink of an Eye")
By the 24th century Scalos was a dead, quarantined world where even archaeological digs could not be sanctioned for fear of the Scalosian water and any surviving Scalosians. During the Dominion War, Starfleet or Section 31 considered visiting the planet so as to make use of the contaminated water in covert attacks against the enemy. (Decipher RPG module: Worlds)
Climate
The volcanic activity in 2268 released tones of greenhouse gases into the planet's atmosphere and made Scalos moderately warm. Unfortunately, the alterations to the planet's atmosphere and ecology resulted in the extinction of thousands of plant species (Decipher RPG module: Worlds).
Geography
Initially being 60% water and with five continents, the volcanic eruptions altered the planet's terrain making it more rough and mountainous. In addition, many Scalosian cities were destroyed by the volcanic activity; although due to the hyperaccelerated metabolism of the Scalosians, much would eventually be rebuilt. (Decipher RPG module: Worlds)
Bodies of Water
Andrean Sea

Sea of Irath

Lake A-cun

Lake Cimber
Mountains
Tranic Mountains

Shovan Mountains

Rulass Mountains

Gardel Mountains

Haron Mountains

Sochan Mountains

Norva Mountains

Kolvar Mountains

Dvorn Mountains
Points of Interest
Nolak Valley

Dvorn Straight

Dorenth Peninsula
Cities
Connections
External link