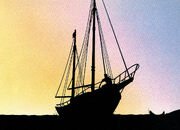 A
schooner
was a type of
sailing vessel
used on the
planet
Earth
. Schooners usually had two masts rigged with sails.
Three American schooners were named Enterprise. The first two saw action in the Revolutionary War, while the third Enterprise was known as the "Lucky Little Enterprise" and served during the War of 1812. The original wooden figurehead from that vessel, shaped like a dolphin's head, was aboard the USS Enterprise in 2275. (TOS novels: Final Frontier, The Wounded Sky)
Alexandria, a starship which participated in The Great Starship Race in the year 2269, contained wood from its namesake, a schooner which once sailed the Baltic Sea. (TOS novel: The Great Starship Race)
James T. Kirk owned a vintage schooner named Edith Keeler which was moored in San Francisco Bay. In 2270, Kirk, Leonard McCoy, Montgomery Scott and Lt. Cmdr. Piper sailed aboard her. After Kirk and Scott disembarked, Piper and crew from Gavelan sailed Edith Keeler to Man-o-War Cay in the Bahamas of the Atlantic Ocean. (TOS novels: Battlestations!, Dreadnought!)
In 2286, Doctor Gillian Taylor and Kirk spent a month aboard a schooner studying George and pregnant Gracie in the South Pacific. Kirk left for a mission aboard the Enterprise-A, but anthropologist Lars Hoël came aboard to keep Taylor company, bringing a variety of clothing, books and music from the Taylor's era of the 1980s. Kirk returned in time to see the birth of Harpo. (TOS comic: "Debt of Honor")
Author Diane Carey novelized portions of "Broken Bow" while aboard a schooner in 2001. (ENT novelization: Broken Bow)
Appendices
Edit
Appearances
Edit
References
Edit
External link
Edit
Community content is available under
CC-BY-SA
unless otherwise noted.