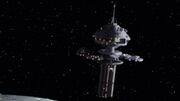 Science Station Tango Sierra was a space station, a Federation research station in the mid-24th century, situated in the Rachelis star system.
This station was built using the planform of the R1 Invictus-class station. (FASA RPG module: Regula-1 Orbital Station Deckplans)
In the year 2365, the starship USS Enterprise-D had a cargo bay fitted to carry strains of plasma plague to Tango Sierra. These strains from the Federation Medical Collection Facility on planet 'aucdet IX were intended to assist the station's researchers tasked with finding an antidote for the Rachelis plasma plague that was threatening to decimate the system. Medical Trustee Hester Dealt successfully went aboard Tango Sierra with the hazardous container. (TNG episode: "The Child")
Appearances and references
[
edit
|
edit source
]
Community content is available under
CC-BY-SA
unless otherwise noted.