The Sech class was a type of Klingon starship, a battlecruiser class in service to various Great Houses in the 23rd century. (DSC episode: "Battle at the Binary Stars")
Sech was the Klingonese word for "torch". (Star Trek: The Official Starships Collection reference: Klingon scale chart partwork)
The Sech-class sported a compact triangular hull design with a flat profile, with the tip forming the bow. Most of it appeared covered in gold-like hull plating. However, large portions of the wings glowed deep blue under light. A trio of engine exhausts marked the rear-most point of the ship. A rectangular engine exhaust sat underneath the engine tubes. The highest point of the ship sat atop the dorsal center. (DSC episode: "Battle at the Binary Stars")
The ship had a length of 558.8 meters. (Star Trek: The Official Starships Collection reference: Klingon scale chart partwork)
Vessels of the class were warp-capable and carried Klingon raiders as auxiliary craft. The Sech-class carried a crew of about 40-50. At least one ship served as a prison ship. (DSC episode: "Choose Your Pain")
Its disruptor arrays fired green bolts from the front of each wing. (DSC episode: "Battle at the Binary Stars")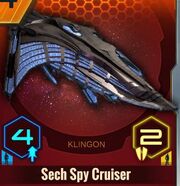 On 11 May, 2256, at least one Sech-class battlecruiser was part of the reinforcements joining the Klingon fleet of 24 Great Houses at the Battle of the Binary Stars against Federation Starfleet forces. (DSC episode: "Battle at the Binary Stars")
Soon after, L'Rell of the House of Mo'Kai commaned a Sech-class battlecruiser that served as prison ship for captured Federation citizens, including Harry Mudd. After her compatriot Voq was artifically hybridized with Lieutenant Ash Tyler of the USS Yeager, the sleeper agent was held as a prisoner.
In December 2256, L'Rell's battlecruiser captured Gabriel Lorca, and his shuttle identified the ensnaring tractor beam with a D7-class signature. With the help of "Ash Tyler", Lorca escaped L'Rell and her ship aboard a Klingon raider. He and the new Tyler returned to USS Discovery. (DSC episode: "Choose Your Pain")
In battles between the Federation and the Klingons, at least one Sech-class starship operated as spy cruiser. (ST video game: Adversaries)
Community content is available under
CC-BY-SA
unless otherwise noted.