This is a list of cards from the Second Edition, a series of the Star Trek Customizable Card Game: Second Edition from Decipher.
Dilemmas
[
]
A Living Death

"Only the very strongest had any hope of survival."

Aggressive Behavior

"It's possible they've mistaken us for a potential mate."

Alien Abduction

"Your arm has been amputated and surgically reattached."

Antedean Assassins

"They were planning on blowing up the entire conference."

Armus Roulette

"Now tell me, how would you feel if you were the instrument of death for your leader."

Assassin's Blade
Assassination Attempt

"As you know, time is of the essence."

Authenticate Artifacts

"You can tell Baran that I'm working as fast as I can."

Automated Weapons
Berserk Changeling
Bynars' Password
Captain's Holiday
Center of Attention
Chula: Echoes
Chula: Pick One to Save Two
Command Decisions
Console Overload
Contamination
Damaged Reputation
Dangerous Liaisons
Debris Field
Drumhead
Enemy Boarding Party
Equipment Malfunction

Explosive Decompression

Gravimetric Distortion

Graviton Ellipse

Hunter Gangs
Impressive Trophies

Invidium

Leak
Kelvan Show of Force

Kolaran

Raiders
Limited Welcome

Maglock

Magnetic Field

Disruptions

Microbrain

Misguided Activist
Nanite Attack
None Shall Pass

Ornaran

Threat
Personal Duty
Pinned Down
Planetary Survey
Primitive Culture
Pursuit Just Behind

"I think it's time to try some 'unsafe velocities!'."

Quarren

Labor Shortage
Recurring Injury
Skullduggery

Stellar Core Fragment

Sympathetic Magic

Systems Diagnostic

Temptation
The Moon's a Window to Heaven
Unscientific Method
Vastly Outnumbered
Wavefront
Equipment
[
]
Alien

Gambling Device

Cardassian Phaser Pistol
Engineering Kit
Engineering PADD
Klingon Disruptor Pistol
Romulan Disruptor Pistol
Science PADD
Starfleet Type-2 Phaser
Events
[
]
A Chance for Glory - rare - start battle event.
A Treasure Beyond Comparison - rare - draw card event.
Astrometrics Lab - common - increase range event.
Awaiting Trial- rare - command Cardassians event.
Back-flush Bussard Collectors
BaH!
Bajoran Gratitude Festival
Battle Drills
Blind Spot
Brutal Struggle
Cry "Havoc!"
D'Arsay Archive
Days of Atonement
Diplomatic Overture
Engage Cloak
Feast on the Dying
For All Our Sons
How Would You Like a Trip to Romulus?
Inspiring Leader
Just Like Old Times
Labor Camp
Let Honor Guide You
Line of Defense
Nelvana Trap
No Love for the Spoon Heads
No Peace in Our Time
Nothing That Happens is Truly Random
"Observer" from the Obsidian Order
Order of the Bat'leth
Peacemaker or Predator?
Pierce Their Defenses
Point Blank Strike
Precise Attack
Prejudice and Politics
Process Identification
Rescue Captives
Resistance Tactics
Romulan Intelligence Network
Standard Cardassian Procedure
Tactical Planning
Taken Prisoner
Tapestry
The Orion Underworld
The Pillage of Bajor
The Reman Mines
To Boldly Go
Warrior's Birthright
Interrupts
[
]
Alternate Identity
Amanda Rogers
Arrest Order
Comfort Women
Condition Captive
Dimensional Shifting
Empathic Touch
Escape
Evasive Maneuvers
Kevin Uxbridge
Lasting Peace
Mission Briefing
Power to the Shields
Protection of the Tal Shiar
Pursuit Course
Quantum Slipstream Drive
Render Assistance
Secret Conspiracy
Sensor Sweep
Sermon
Shady Resources
Souls of the Dead
Symbol of Devotion
The Promise
The Tides of Fortune
Ties of Blood and Water
Torture
Twist of Fate
Missions
[
]
Abduction Plot
Access Relay Station
Acquire Illicit Explosives
Amnesty Talks
Bajor, Gift of the Prophets
Cardassia Prime, Hardscrabble World
Cargo Rendezvous
Changeling Research
Chart Stellar Cluster
Collect Sample
Colony Preparations
Cure Blight
Deliver Supplies
Earth, Cradle of the Federation
Earth, Home of Starfleet Command
Eliminate Harvesters
Encounter at Farpoint
Evacuate Colony
Excavation
Explore Black Cluster
Extraction
Feldomite Rush
Fissure Research
Geological Survey
Host Metaphasic Shielding Test
Hunt for DNA Program
Iconia Investigation
Intercept Maquis
Intercept Renegade
Investigate Alien Probe
Investigate Coup
Investigate Massacre
Investigate Rogue Comet
Investigate Rumors
Investigate Sighting
Khitomer Investigation
Kressari Rendezvous
Medical Relief
Military Exercises
Mining Survey
Mouth of the Wormhole, Deep Space 9
Pegasus Search
Plague Planet
Qo'noS, Heart of the Empire
Qualor II Rendezvous
Quest for the Sword of Kahless
Rescue Prisoners
Romulus, Seat of Power
Runabout Search
Search and Rescue
Search for Survivors
Security Briefing
Sensitive Search
Study Cometary Cloud
Supervise Dilithium Mine
Surgery Under Fire
Uncover DNA Clues
Verify Evidence
Wormhole Negotiations
Personnel
[
]
Bajoran
[
]
Cardassian
[
]
Corbin Entek, undercover operations supervisor
Dukat, military advisor
Elim Garak, agent of the Obsidian Order
Emok
Enabran Tain, head of the Obsidian Order
Evek, attaché to the Demilitarized Zone

Gilora Rejal

, subspace researcher
Jerax
Joret Dal, patriotic visionary

Kovat

, public conservator
Lemec, posturing negotiator
Madred, calculating captor
Ocett, dogged rival

Rogesh
Federation
[
]
Alyssa Ogawa, Enterprise medical assistant
Data, aspirer

Davies

Deanna Troi, guide and conscience
Elizabeth Shelby, formidable presence
Gideon Seyetik, great terraformer
Jean-Luc Picard, Argo pilot
Jean-Luc Picard, explorer
Julian Bashir, "frontier" physician
Kathryn Janeway, ery Admiral

Lopez

Luther Sloan, man of secrets

Mills

Paulson

Robin Lefler, mission specialist

Seth Mendoza

Van Orton

Wesley Crusher, prodigy
Klingon
[
]
Non-aligned
[
]
Acost Jared

Altovar, Vindictive Criminal
Berild

Bhavani

Brull

, Encampment Leader

Chorgan

, Leader of the Gatherers
Dallan
Dathon, Speaker of Tama

Durg

Galnar
Grathon Tolar, Hologram Forger
Grenis

Inad

Jo'Bril

, Patient Schemer
Kamala, The Perfect Mate

Kolos

Leyor

Marouk

, Sovereign of Acamar
Morn, Barfly

Nel Apgar

, Temperamental Researcher

Pran Tainer

, Atrean seismologist

Regana Tosh

Retaya, Urbane Poisoner
Riva, Respected Mediator
Serova, Warp Field Theorist

Sunad

Temarek

The Albino, Killer of Children
Togaran
Tosk, The Hunted

Ty Kajada

, Relentless Investigator
Vash, Treasure Hunter

Volnoth
Romulan
[
]
Alidar Jarok, Conscientious Admiral
Chagrith
Cretak, Supporter of the Alliance
Donatra, Compassionate Patriot
Dralvak
Jorvas
Mopak

Movar

, Political General

N'Vek

, Soldier of the Underground
Noram
Sabrun
Sela, Mysterious Operative
Selveth, Tal Shiar Pilot
Shinzon, Capable Commander
Talvin
Taris, Deceitful Subcommander
Telek R'Mor, Astrophysical Researcher
The Viceroy, Shinzon's Protector
Thexor
Tomalak, Beguiling Adversary
Ships
[
]
Bajoran ships
[
]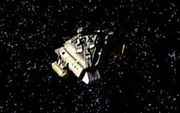 Cardassian
[
]
Federation
[
]
Klingon
[
]
Non-aligned
[
]
Romulan
[
]
External link
[
]
Second Edition article at Memory Alpha, the wiki for canon Star Trek.