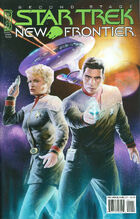 Star Trek: Second Stage was a general title used by IDW Publishing to refer to its second year of Star Trek publications. The brand was announced in a press-release on 27 December 2007 which also officially announced four new miniseries by the company. Star Trek editor for IDW at the time, Andrew Steven Harris, described the intent of Second Stage as follows:
We're expanding our slate of titles to four issues a month, so that there's a feeling of weekly appointment reading for our audience, like a Star Trek TV show. At the same time, we want each title to have the significance of a Star Trek film, so that each series is a seminal comics event. That's the level that we're shooting for with STAR TREK: SECOND STAGE.
The launch of Second Stage also marked an increase in established talent IDW recruited to produce their comics, with veteran Star Trek writers such as Peter David and D.C. Fontana contributing to series under the banner.
The press release suggested every issue that was part of the Second Stage would be marked with a logo. However, only the first issue of the first Second Stage miniseries, "Turnaround, Part I", featured the Second Stage title.
Second Stage miniseries
[
]
The initial press-release for Second Stage announced four new miniseries, it is not clear if subsequent series are included as part of Second Stage as the suggested branding was never implemented.
External link
[
]