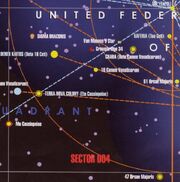 Sector 004, also known as the Sigma Draconis sector, is an Alpha Quadrant sector of space that is located in the heart of the United Federation of Planets, according to Federation measurement standards and terminology in stellar cartography.
As the sector's common name indicates, this sector contains the star Sigma Draconis and its system. The sector was bordered towards the galaxy's lower reaches by the Terra Nova sector. Towards the galaxy's coreward regions, sector 004 is bordered by sector 001. Moving counter-clockwise around the galactic center, this sector is bordered by sector 006. During the 2160s, it contained several Human and Vulcan trade routes. (ST reference: Star Charts)
This sector was explored by the starship USS Enterprise. (TOS episode & Star Trek 8 novelization: Spock's Brain, TOS comics: "Nor Any Drop to Drink", "Menace of the Moloth", "Planet of Rejects")
Community content is available under
CC-BY-SA
unless otherwise noted.