Sector 007, also known as the Tellar sector, is an Alpha Quadrant sector of space that is located in the heart of the United Federation of Planets, according to Federation measurement standards and terminology in the galaxy's stellar cartography.
History and specifications
As the sector's common name indicates, this sector contains the planet Tellar and its star, 61 Cygni, and its system. The sector was bordered towards the galaxy's upper reaches by the Sol sector. Towards the galaxy's rimward regions, sector 007 is bordered by the Terra Nova sector. Moving counter-clockwise around the galactic center, this sector is bordered by the Alpha Centauri sector. (ST reference: Star Charts)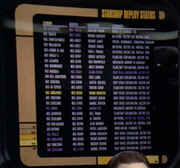 In the year 2365, this sector was surveyed by the USS Endeavour under command of Captain Cosmo Genovese. (TNG episode: "The Measure of a Man")
This sector was mentioned as part of mission information visible on a computer viewscreen at Data's JAG hearing.
Native species
Appendices
Connections
External link