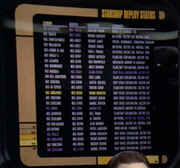 Sector 032 was a region of space located somewhere in the galaxy's Alpha or Beta Quadrants, near the Federation's outer reaches in the year 2365. In that year, this sector was surveyed by the USS Yorktown under command of Captain Gregory Benson. (TNG episode: "The Measure of a Man")
This sector was mentioned as part of mission information visible on a computer viewscreen at Data's JAG hearing.
Community content is available under
CC-BY-SA
unless otherwise noted.