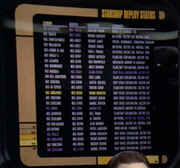 Sector 054 was a region of space, a sector located somewhere in the galaxy's Alpha or Beta Quadrants, near the Federation's outer reaches in the year 2365.
Around stardate 42523.7, the Federation starship USS Da-Teplan explored planetary systems in sector 054 under command of Captain Richard Cronn. (TNG episode: "The Measure of a Man")
This sector was mentioned as part of mission information visible on a computer viewscreen at Data's JAG hearing.
Community content is available under
CC-BY-SA
unless otherwise noted.