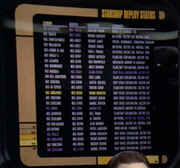 Sector 130 was a region of space, a sector located somewhere in the galaxy's Alpha or Beta Quadrants, in proximity to the Romulan Neutral Zone.
In the year 2365, around stardate 42523.7, the Federation starships USS Excalibur, USS Wellington and USS Farouk El-Baz patrolled sector 130. The USS Hokule'a explored planetary systems in sector 130 around the same time. (TNG episode: "The Measure of a Man")
Community content is available under
CC-BY-SA
unless otherwise noted.