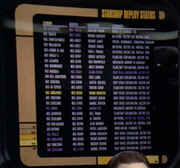 Sector 134 was a region of space, a sector located somewhere in the galaxy's Alpha or Beta Quadrants, in proximity to the Romulan Neutral Zone.
History and specifics
In the year 2365, around stardate 42523.7, the Federation starship USS Yamato patrolled sector 134. (TNG episode: "The Measure of a Man")
This sector was mentioned as part of mission information visible on a computer viewscreen at Data's JAG hearing.
Appendices
Connections
References
External link