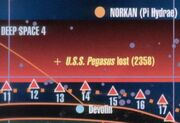 Sector 1607 was a region of space, a sector located in the galaxy's Beta Quadrant. This sector was in proximity to a section of the Romulan Neutral Zone between Federation and Romulan Star Empire territories. (TNG episode: "The Pegasus")
History and specifics
In the year 2370, the Federation starship USS Enterprise-D was ordered to sector 1607 to rendezvous with the USS Crazy Horse, and bring aboard Admiral Erik Pressman.
Pressman, former captain of the USS Pegasus, revealed that vessel had been lost in the sector in 2358. More recently, a piece of debris from the vessel had been found in the nearby Devolin star system.
The secrecy of the mission to recover the vessel was due to the fact that Pegasus had performed an illegal cloaking experiment in this sector. Following a mutiny, the majority of the crew was lost and the vessel drifted with an active interphase cloaking device into an asteroid field in the Devolin system. The Pegasus was presumed destroyed by Starfleet.
The Enterprise found the Pegasus partially embedded inside an asteroid. Captain Jean-Luc Picard had Pressman arrested for the treaty violation and announced the Pegasus incident to the nearby Romulan warbird IRW Terix. (TNG episode: "The Pegasus")
The last known position of the Pegasus in this sector was depicted in ST reference: Star Charts. It was not made clear in either source if the sector extended into the Neutral Zone or if sector 1607 included other nearby objects depicted on the map. The episode did not make clear whether or not the Devolin system was in the sector, but that is likely.
Appendices
Connections
References
External link