The Shadow-class was a type of Romulan starship in operation in the late 24th century.
This class of vessel was only present for the elite of the
Romulan Star Empire
's forces, namely the
Tal Shiar
, whose operations required a vessel more suited for covert operations. Their secretive nature meant that the Shadow-class cruisers contained the most advanced technology available, which was all classified to such an extent that members of the
Romulan Senate
were not 'officially' aware of the vessels' existence. They were equipped with weapons to protect themselves in battle.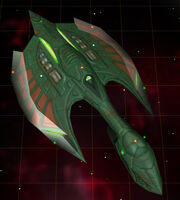 Considering who controls such class of vessels, the Shadow-class were known to carry several experimental technology that were not available within the Romulan fleet. A psychonic generator was installed that would be fired from the deflector dish that was capable of piercing the shields of a ship and killing the crew within. An efficient energy convertor was present within the ship that allowed it to convert the ship's own energy reserves to reinforce the shields of friendly vessels. Furthermore, the ship showcased the Romulan attempts at holographic technology, which was in the form of a holo-emitter that was capable of altering the sensor profiles of enemy ships, which would soon bring enemy ships firing on each other, as they believed each other to be enemies. Finally, a working Interphase generator was present on the ship that allowed it to move, while cloaked, through matter by phasing by solid objects.
Appearances
Edit
Community content is available under
CC-BY-SA
unless otherwise noted.